Rilo Kiley - "Under the Blacklight" LP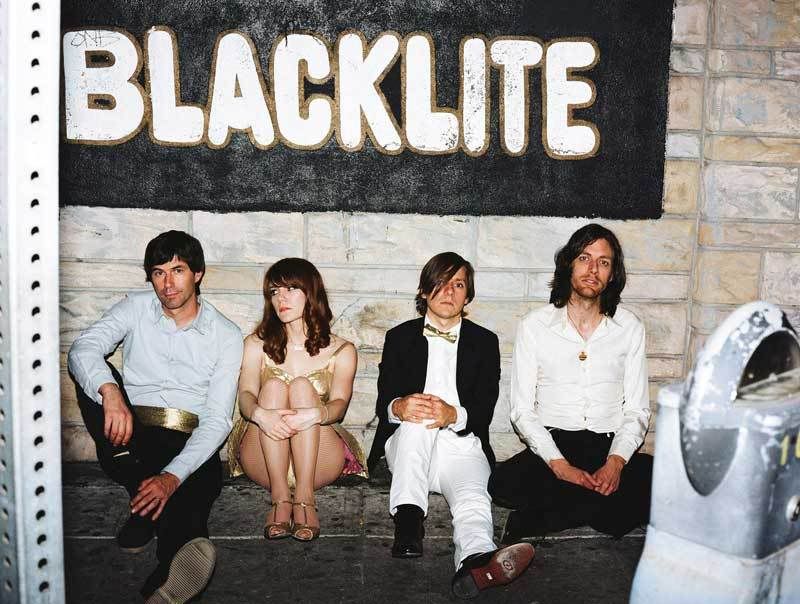 I just received a press release about the new Rilo Kiley Under the Blacklight. Hopefully this'll...shed some light on anything you don't know about the album thus far. Oh yeah, and there's some pretty awesome new promo pics too:
Rilo Kiley have built an illustrious career on creating masterful, deeply engrossing albums, the songs balancing an intimate confessional side with a kind of cavalier joie de vive and an increasingly affectionate nod to their Southern Californian musical heritage. The band's last record, 2004's More Adventurous, prompted Elvis Costello to praise the "best lyric writing that I've heard in many a day", Coldplay to invite them on their 2005 arena tour and a plethora of critics to vote them into their annual "best of" lists. Lead singer and songwriter Jenny Lewis' dexterity for lush power pop, soulful synths and weepy country ballads has won the band a large and dedicated fan base, bolstered by the blistering live shows which match Lewis' astonishing charisma with singer/guitarist Blake Sennett's shimmering guitar and the exemplary drum and bass partnership of Jason Boesel and Pierre de Reeder.
Under The Blacklight, their fourth album and their first for Warner Bros, was recorded in Los Angeles in fall/winter 2006 and winter 2007, and is Rilo Kiley at their most robust and dazzling. It comes after an 18 month hiatus during with Sennett released a second album with The Elected, Boesel recorded with Bright Eyes and Lewis released her debut solo album. Lewis, having spent all of 2006 promoting the southern soul-influenced Rabbit Fur Coat, returns to her rock roots with obvious relish; the delicate acoustic harmonies of her solo sojourn have given way to deliciously full-bodied vocals and exuberant songs complemented by rich guitar sounds and opulent production.
On Under The Blacklight, Lewis is fiery and unrestrained, no more so than on "The Moneymaker". With the blood of Fleetwood Mac, early Heart and The Rolling Stones' 1978 dancefloor masterpiece "Miss You" pumping through its veins, Under The Blacklight is a gloriously decadent-sounding album, smooth dance beats balanced by the underlying lyrical motifs of the seedier side of Los Angeles life; the characters in the songs embroiled in everything from drunken one night stands to the sex industry. The album's lyrical theme is of the darker side of life as revealed by a nightclub blacklight, each song's character sharpened to a precise focus by Lewis' unique, undeniable approach. Lewis' penchant for 60's country music is also represented; "15", a twisted love story of misplaced ardor, gives us the unique idea of what Bobbie Gentry might have had to say if internet dating had existed in her time. Elsewhere, Sennett dazzles with the sneaking 70's soul of "Dreamworld", a song so rich with gold dust that it's liable to take you back to the days of high school mix tapes, while "Breakin' Up" is perhaps the perfect encapsulation of what Rilo Kiley is: the song craft of Sennett and the serrated edge of Lewis' lyrics - deceptively catchy and upbeat, the song celebrates leaving a jilted lover in the dust. From opening track "Silver Lining" to closer "Give A Little Love" Lewis' stunning vocals gives credence to the recent Laura Nyro comparisons bestowed on her by the press. In many ways Under The Blacklight is a classic Californian love child and Rilo Kiley its ardent and vivacious young parents.


Under The Blacklight's producers are Rilo Kiley & Jason Lader (Vietnam, Jay-Z) and Mike Elizondo (Dr. Dre, Fiona Apple). It's released in August 21st, 2007 on Warner Bros Records.
Blogged with Flock