Sufjan Stevens:
Live at the Crystal Ballroom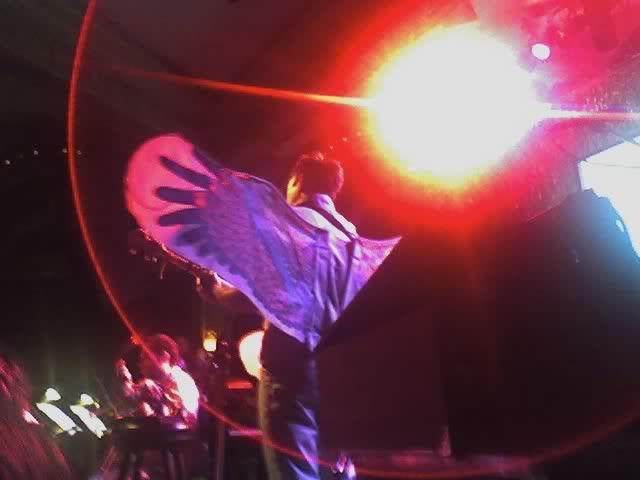 After struggling to find a bootleg of my first Sufjan Stevens experience, I did it. I found it via some
french message board
. Concert reviews are far from my favorite thing to write about but here's one I did of the show for my college's paper:
From "Chicago" to Portland
Sufjan Stevens stuns the Crystal Ballroom
October 27, 2006

Last year singer/songwriter Sufjan Stevens released "Come On Feel the Illinoise," better known as "Illinois." It quickly caught fire, receiving rave reviews and guaranteed spots on year-end top 10 lists. Stevens possesses undeniable talent that critics and music listeners alike can no longer ignore.
"Illinois" is Steven's second state-themed album, following his 2003 release, "Greetings from Michigan." This album's content, like its predecessor, focuses on the state's history, folklore, notable figures and traditions. Songs recall UFO sightings, the World's Fair, the mass appeal of Superman and the "love life" of a certain serial killer.
This year, selections from "Illinois" were featured in the sleeper hit of the summer, "Little Miss Sunshine" and left the general public wanting more. In acquisition, Stevens released a second Illinois-themed album containing a compilation of songs that didn't make the original cut
On Friday, Oct. 13, Michigan native Sufjan Stevens stunned the audience with a stellar performance in Portland's own Crystal Ballroom. I, of course, was there to take in every moment of it, but it was no easy task to get there.
Being the college student that I am, with a "steady" income from KCCR and The Mast, I was reluctant to snag a ticket for Stevens' upcoming concert in Seattle. The show, along with most of the tour, quickly sold out. I was out of luck.
About a week later, a friend informed me he had found two tickets online for the concert in Portland, costing $100 total. Before I could inform him of my financial instability, he told me, "It's a birthday gift." I wasn't in a position to contest.
After surviving the tail end of rush hour, a bathroom break in only-God-knows-where and an hour wait outside in the brisk autumn air, we made our way inside the antiqued hallways of the classic Portland venue. The crowd was something I had not expected: a combination of young teens and those in their mid-to-upper 20s with a few thirty- and fortysomethings peppered about. I felt a little out of place crowding the stage in a sea of adolescents while others 10 years my senior socialized in the bar behind me.
Being the concert-going veteran that I am, I've grown to despise waiting through opening acts, regardless of talent. Arriving "early," also known as on time, I had the "privilege" of catching My Brightest Diamond, a female-fronted, orchestra-backed act employed under Steven's own label, Asthmatic Kitty. My Brightest Diamond sounded like Fiona Apple if she channeled all her angst and anger into her music instead of her well-crafted lyrics.
One song's content focused on butterflies caught in spider webs, something straight out of a high school creative writing class.
Musically, the band picked up and caught my drifting attention, and almost-keyword: almost-paved the way for Stevens' highly anticipated set.
As the lights dimmed, a stream of musicians cluttered the stage clad in bird masks and wings crafted from kites. The musicians included Stevens, trumpeters, violinists, a drummer, a guitar player or two and, to my surprise, all the members of My Brightest Diamond. They opened with an overwhelmingly beautiful rendition of "Sister," a song off Steven's 2003 thoroughly religious album, "Seven Swans." During this long-winded but well enjoyed start, I noticed a projection of homemade Super-8 films on a screen behind the band, only adding to the mystery and uniqueness of the music.
Following "Sister" came the banjo-led song, "The Transfiguration." From there the band moved into a horn-based number called "The Tallest Man, The Broadest Shoulders," which began to give you an idea of how many people and instruments were on the stage.
Next up was the heartbreaking "Casimir Pulaski Day," which intones the tragedy of a dying love interest. In it, Sufjan sings about his fleeting faith: "Tuesday night at the Bible study/We lift our hands and pray over your body/But nothing ever happens." The song also recalls personal romance: "I remember at Michael's house/In the living room when you kissed my neck/And I almost touched your blouse." Seeing the song live was nothing short of a tearjerker.
The band continued on a lighter note with the peppy song, "Dear Mr. Supercomputer," and Sufjan charmed the audience with his version of a "scary story," which set up his next song, "The Predatory Wasp of the Palisades Is Out To Get Us!"
"John Wayne Gacy, Jr." came next with falsettos that sent shivers down my spine, then a piece inspired by, and titled after, Flannery O' Connor's short story, "A Good Man is Hard to Find."
Thus far, the show had been outstanding, but the newly written "Majesty Snowbird" without a doubt stole the show. The song, spanning nearly 10 minutes in length, showcased a level of musical craftsmanship that topped anything Stevens has done to date. The breathtaking number utilized every instrument, challenged vocal ranges and created a masterpiece out of interweaving strings, horns, cymbal crashes and piano. "Majesty Snowbird" set new standards for the likes of Stevens, but unfortunately left the crowd with readjusted expectations as well.
Although the rest of his set was not as over-the-top, Sufjan, along with the rest of the band, amazingly executed songs like "Jacksonville," "Detroit, Lift Up Your Weary Head" and the Superman-inspired "The Man of Metropolis Steals Our Hearts."
Stevens finished his set with "Chicago," an obvious crowd favorite. As fans sang along and the band wrapped up, it was clear that everyone wanted more. As an encore, Sufjan and the rest came back to play the lengthy "They Are Night Zombies!! They Are Neighbors!! They Have Come Back From The Dead."
Here's Suf's personal setlist I was lucky enough to snag. It doesn't actually list everything played that night: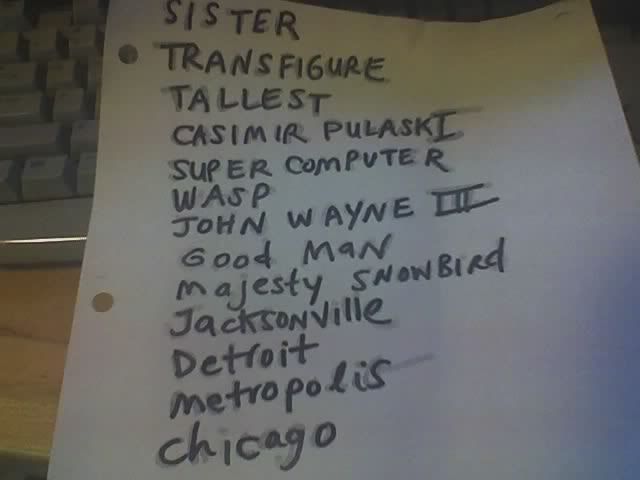 And, without further ado, the
amazing
bootleg (w/ minimal crowd noise).
Majesty Snowbird
and
Sister
are
HIGHLY RECOMMENDED
:
note: Go Here to Download
1)Intro
2)Sister
3)The Transfiguration
4)The Tallest Man, The Broadest Shoulders
5)Casimir Pulaski Day
6)Dear Mr. Supercomputer
7)Intro Story
8)The Predatory Wasp Of The Palisades Is Out To Get Us!
9)John Wayne Gacy, Jr.
10)Speaking
11)A Good Man is Hard to Find
12)Speaking
13)Majesty Snowbird
14)Speaking
15)Jacksonville
16)Detroit, Lift Up Your Weary Head!
17)To Be Alone With You
18)The Man Of Metropolis Steals Our Hearts
19)Speaking
20)Chicago
21)Encore Break
22)They Are Night Zombies!! They Are Neighbors!! They Have Come Back From The Dead!!! Ahhhhh!!!