Nothing Better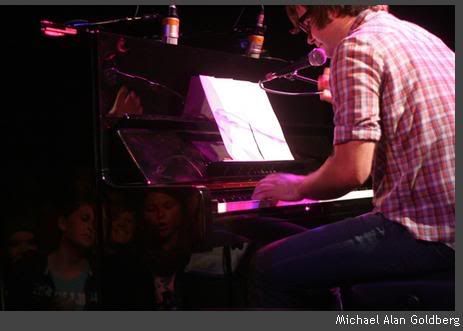 So, I got to see Ben Gibbard once again, as well as see Dave Bazan for the 7th time (not as many times for Gibbard). After a lost ticket fiasco, I made my way to the Showbox, skipping that Jonathan Rice character, and caught the last half of Bazan set when he played the heartbreaking "Priests & Paramedics" and Leonard Cohen's "Hallelujah". Ben came on, had some great covers (Neil Young's "Harvest Moon" and Squeeze "Up the Junction"). Played a ton of new Death Cab which seemed to be pleasing to the crowd but nothing off Facts or Airplanes. I would've died had he played "Epilogue" but don't get me started on that song cuz I've spoken for hours upon hours on that song with people. He played a bunch of Postal Service songs which was great, including a suprise appearance by Rilo Kiley's own Jenny Lewis (which was probably a better surprise than the whole Bill Callahan/Joanna Newsom business). She sang "Nothing Better" and "Such Great Heights" with him. Overall the show wasn't a tear jerker like the last time I saw him a few years back, but it was still amazing. What I find halarious is t-shirts he's selling that simply say Ben Gibbard, as if he was some solo artist. That has to be a joke. A joke worth falling for. Here's some videos (YES, I KNOW! I PROMISE NO MORE VIDEOS. TODAY'S MY LAST DAY TO DEAL WITH FINALS!!!). I can't take credit for them though:


Ben Gibbard & Jenny Lewis - "Nothing Better"
Ben Gibbard - "Passenger Seat"

Ben Gibbard, Jenny Lewis, Dave Bazan, & ...Jonathan Rice - "Such Great Heights"

Sorry, I don't have any mp3's of this show yet. Keyword yet. I will viciously be searching blogs, message boards, directories etc for the next couple weeks. Until then, enjoy the videos. Thanks again, Ben!