I Am Butter


Yes, I'm on a roll with these blog posts today. Look at me, bloggin' away on a Friday night. There's just been so much going on with music...which unfortunately does create some homogeneousness (?) in the blogging world, which of course I hate.
First off,
V Magazine
has a piece on Chan Marshall's involvement with Chanel...and for some reason, I'm just loving these pics: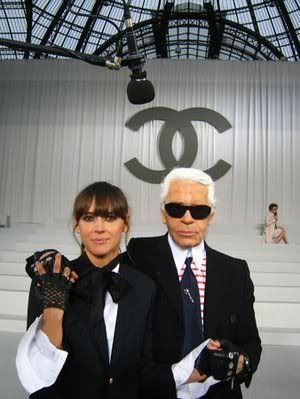 ♥
Chan's also contributed to Yoko Ono's 'remix' album called
Yes, I'm a Witch
I've got a feeling tracks from this album are gonna get pulled fast, so I'm just gonna save myself some time by directing you to a few blogs that are hosting some momentarily:

to top it all off, you can stream the entire album
here
.
Also, Andrew Bird made an appearance on the children's show Jack's Big Music Show on the Noggin Channel, as "Mr. Stringz"
I guess his new album's been leakin' like mad, but I'll respect him, and only post the 'approved' track off his upcoming release:
Andrew Bird - "Herectics"
*Link Removed to Save Bandwidth for
New Site
So I'm pretty blogged out, but thanks for the feedback. Keep shootin' me emails if you'd like me to check out/review/promote your band/artists/label/etc. I'm havin' a lot of fun, and that's what I got in this for.